AR & VR is expected to be a $120 billion industry with Asia being the dominant region leading this growth - Ninad Chhaya.
Q. Kindly explain to us the functions of the GoPhygital app.
A. The GoPhygital app currently showcases some of the work we are doing in the AR, VR ecosystem and some of the possibilities that Augmented and Virtual Reality can be used for. We have two apps available for download on the iOS and Android store:
The GoPhygital AR app, which is an app that showcases various ways in which organisations can leverage the power of Augmented Reality to enhance user engagement. The other is GoPhygital VR app, which is an app that showcases the power of VR and the ability to deliver a truly immersive experience.
Another interesting app that we have recently launched is the Ben & Bella Treasure Box, an AR powered app which helps unlock and nurture a child's curiosity and creativity while teaching the English language. By using the AR powered app, the child can embark on a treasure hunt by scanning and discovering hidden goodies across the various physical products of Ben & Bella franchise like activity and sticker books, flash cards, etc.
How do you view the future of AR, VR, and MR in India?
A. A report done by Digi-Capital states that by 2020, AR & VR is expected to be a $120 billion industry with Asia being the dominant region leading this growth. AR, VR, and MR are slowly being adopted in India in retail, entertainment, education, publishing, and other industrial sectors. With mobile devices getting smarter and cheaper, the scope of implementing the technologies in India is starting to take off. Currently, there are multiple AR and VR mobile apps available on both Android and iOS stores.
As compared to a website or a mobile app, which most brands use as a current means to engage with their users, AR, VR, and MR has the potential to give a greater emotional resonance to objects and topics. By engaging users, the technology creates a highly compelling and enjoyable experience. In addition, the Gartner Hype Cycle for Emerging Technologies, 2016, states that AR & VR are expected to become a driving force for businesses in the next five to ten years.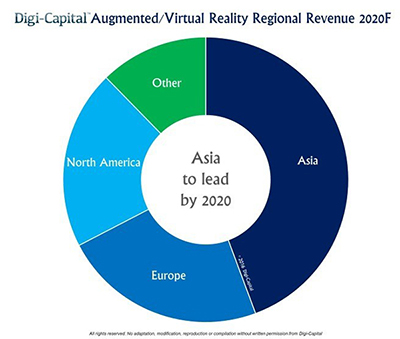 Apart from gaming and movies, which other fields can be benefited from this technology?
A. Apart from gaming and movies, AR, VR and MR can be used in many cases.
Take for example, training. Companies in various sectors like insurance, manufacturing, law enforcement, etc. are using VR to train their employees on how to handle various scenarios. Samsung are using VR for their production line training because it not only saves on cost but it is also more efficient. Under the new VR training programme, an employee uses a headset and holds a specially designed tool to work through the manufacturing processes. It allows the trainees to physically get used to the most important steps of the manufacturing process.
Another case is retail. Major retailers are using AR to engage the audience when it comes to buying a product. An example of this is IKEA using AR in their catalogues to sell their furniture. Users place the catalogue in a desired location of their room and use the app to augment digital versions of the selected furniture.
Then there is healthcare. Not only as a tool to train students, but VR could also change the way your doctor interacts with you. With the help of VR, he/she could show you how a disease/fracture is impacting your body. London-based tech company Touch Surgery offers surgeons an opportunity to train for various surgical procedures using augmented reality. AR wearable devices allow them to learn about operations in a deeply immersive training environment.
They are also used in the area of relaxation and meditation. Imagine removing the hassle of packing and driving/flying to your favourite relaxation/meditation spot. VR can not only save you the money, but also get the desired result.
Another example is tourism. Visit a country in VR through 360° videos of the touristic hotspots and then book a trip to see them in-person. The tourism industry is also using AR technology to enhance sightseeing experience for tourists. Through a mobile app, tourists can get relevant information.
They are also used in real estate. See your next home/business and the surrounding area in VR before you decide to buy. It saves time and money. Architects and designers are also using AR/MR to display interactive 3D structures for clients.
How is GoPhygital helping in the pharma and healthcare sectors with AR and VR applications?
A. Our parent company WITS Interactive has worked with pharma/healthcare companies in the past to help these brands create immersive experiences and awareness through Gamification and 3D visualisations. Over the years, the team has developed 2D and 3D Gamification modules that have helped our clientele to execute interactive learning and development programmes. While our foray into the VR, AR/MR market is recent, we are now working on a couple of exciting initiatives with companies in the pharma and healthcare space.
In addition to healthcare, GoPhygital works with businesses across various segments like education, media and entertainment, retail, and lifestyle.
Can AR/VR help SMEs and MSMEs?
A. Yes, AR/VR if planned and executed well, can be a very powerful platform for small and medium sized businesses to build and enhance their customer experiences.
However, it must also be noted that there is no "one-size-fits-all" when it comes to defining an AR / VR strategy and what may work for one business may not necessarily work for the other. Also, to design and develop engaging, immersive AR/VR experiences requires investment from a time and cost perspective, both in terms of creating the content and then making it available for users to experience. A half-hearted attempt can actually backfire and be detrimental to the brand.
It is also important to work with the right development partner, who shares your strategic vision and not only understands the technology but also the art of storytelling.
Can AR and VR become more affordable for brands and verticals in the industry? Is price the key factor keeping brands away from taking the plunge?
A. Yes, AR and VR are becoming more affordable because technology is constantly evolving and seems to be getting faster and cost-effective. Let me share a fun fact. One of the first VR headset developed in the late 1980's had a price tag of over Rs. 32 lakh while today, an entry level VR headset like the Google Cardboard is available for a few hundred rupees.
To me, the two key factors for AR and VR going mainstream are cost and reach. A lot of people today don't realize how much time and effort goes into developing a programme for these technologies. Organizations in the industry need to adopt these technologies depending on their end objective.
Companies looking to invest in AR/VR as part of their marketing and engagement strategy need to be aware of the investment involved, both in terms of time and money, and then take the plunge.
With regard to VR, entry level, mass-market VR headsets like Google Cardboard which start at a couple of hundred rupees to a mid-level HMDs (head mounted display) like Google Daydream VR or Samsung Gear VR which is in the range of Rs. 8,000 to Rs.10,000, and then the premium HMDs like Oculus Rift and HTC Vive which cost close to a lakh rupees.
The choice of the headset will influence the kind of VR experience you want to experience or deliver. The mid-range HMDs (mobile) seem to be most popular for both the VR developers and end consumers. VR will go main stream once the headsets become more affordable and accessible.
At the recently concluded Facebook Developer Conference, F8, Mark Zuckerberg outlined Facebook's vision and focus of making Augmented Reality available to their user base in such a way that it becomes an integral part of their daily usage of all Facebook apps and revolutionizes the way people interact with their environment.
So, yes, AR and VR will become increasingly mass market oriented and affordable in the days to come.
View the full Magazine:
http://businesseconomics.in/%E2%80%9Car-vr-expected-be-120-billion-industry-asia-being-dominant-region-leading-growth%E2%80%9D-ninad-chhaya

Share: