WHO ARE WE?
GoPhygital is a venture driven by an experienced team who have cut their teeth on design, technology and everything around it. We create exciting solutions that go beyond the 'digital only' domain and enhance physical products with digital engagement.
WHAT WE DO?
GoPhygital works with businesses across various segments like education, healthcare, retail, lifestyle etc to help them enhance their product offering and user engagement by implementing phygital solutions incorporated with a strong element of gamification. At GoPhygital, we don't just focus on Internet of Things (IoT) … we go the extra mile to focus on Internet of EveryThing ☺
In the above Ikigai framework, the pillars of technology, design, expertise, and client are represented. Let's break down each pillar:
Technology
This pillar represents our deep interest and enthusiasm for technology. It encompasses our passion for exploring and working with various technological fields, such as software development, artificial intelligence, data analytics, mobile applications, web applications, or any other area that ignites our passion.
Design
This pillar focuses on our understanding and skills in design principles. It includes our ability to create user-centered and visually appealing experiences, whether in user interface (UI) design, user experience (UX) design, graphic design, or any other design discipline related to technology.
Expertise
This pillar highlights our expertise and proficiency in technical know-how. It encompasses our knowledge of programming languages, software development tools, hardware systems, or any other technical abilities that are relevant to our chosen technology domain.
Client
This pillar emphasizes the importance of understanding and meeting the needs of our clients. It involves identifying the pain points, desires, and challenges that they face and developing technological solutions that effectively address those needs. By applying our technical skills and design expertise, we create technology-driven products, services, and experiences that truly serve and delight our customers.
Our Clients
We feel honoured to be associated with a widespread and reputed list of clients; who have made us what we are today! Having served the global markets for close to a decade, we identify ourselves with the changing phase of technology and associated companies. We stand at a place today, where our clientele relies on our services for their technological needs.
LEADERSHIP TEAM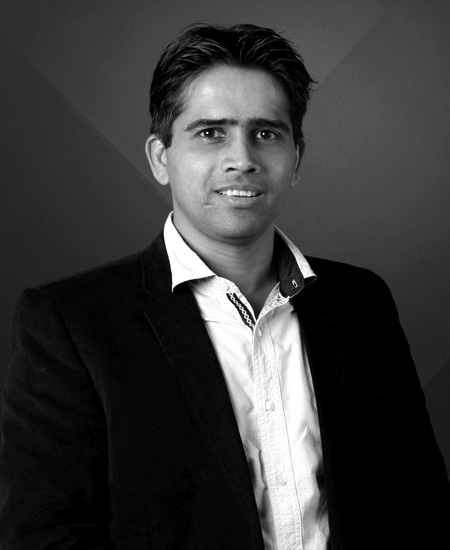 Driven by the essence of a distinct vision, Hitesh instituted GoPhygital in 2003. A technology evangelist at heart, he is the chief architect for the vision of GoPhygital. He leverages his extensive experience to generate ideas, offers support and articulates practical solutions for clients & partners.
Our Team
Crew behind the work-wheel